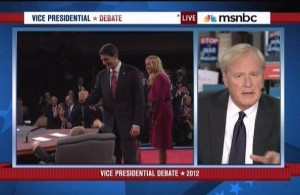 MSNBC's Chris Matthews immediate post-debate analysis gave the contest between Vice President Joe Biden and GOP vice presidential nominee Rep. Paul Ryan handed the victory to Biden and the Obama administration. He detailed why he felt Biden won or tied the majority of the exchanges against Ryan.
"It was a great debate," Matthews said. "Martha Raddatz was great."
He went on to grade the candidates' performances, saying that Joe Biden won the majority of the exchanges – primarily those on abortion rights and the reformation of entitlement programs. Matthews did, however, give the debate to Biden. "He did what he had to do," Matthews said.
Rachel Maddow wondered if Biden did well because so much of the debate focused on foreign policy. Matthews proceeded to outline his scoring of the debate.
"Medicare, anyone 65 or near it or older certainly is focusing intently on that, and they hear one guy defend it and one guy talk about this razzle dazzle, radical change," said Matthews.
He went on to focus on abortion issues, saying that Biden offered the more centrist position. Matthews went after Ryan for saying that a Mitt Romney administration would not support abortion rights outside the cases of rape, incest and the life of the mother.
"This is America," said Matthews. "This isn't old Spain. You don't tell people what you can't do because of your church views. You can't do that."
Matthews said that the issues of Medicare, taxes and abortion were won by Biden and they secured the debate for Biden.
Watch the clip below via MSNBC:
> >Follow Noah Rothman (@Noah_C_Rothman) on Twitter
Have a tip we should know? tips@mediaite.com