Chris Matthews Fires Back: 'Glenn Beck Is A Nincompoop' Who Misunderstood 'Cult' Comment
Matthews Fires Back: 'Beck Is A Nincompoop' Who Misunderstood 'Cult' Comment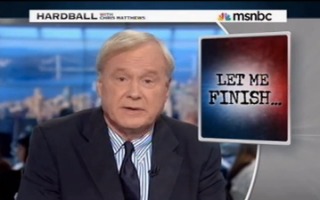 MSNBC's Chris Matthews wrapped up his show Thursday night by responding to Glenn Beck's assertion that Matthews is a "total and complete bigot" over comments he had made about both Mormonism and Matthews' own religion, Catholicism. Beck had taken issue with, among other things, Matthews referring to two Catholics and a Mormon as "cultists."
And Matthews did not appreciate that.
"Let me finish tonight with this," he said. "Gleck Beck is a nincompoop." Oh!
RELATED: Glenn Beck Calls Chris Matthews 'A Total And Complete Bigot' Over Mormon Remarks
I talked the other night about the Catholic as well as the Mormon religion being viewed as "cults" in the South. I talked about the fact that many who hold this view are voting for Mitt Romney because they view President Obama as a Muslim. Beck, either out of stupidity, hardness of hearing, or malice, said that I was calling my religion and the Mormon religion a cult. I make Beck's dishonesty a matter of record because sometimes people hearing something from even someone like Beck and take it as having an element of truth. Well, everyone who watches me knows I've never said a word critical of the LDS religion or my own. I've taken on members of our religions, and will continue to do so.

Beck is out there saying something absurd — that I don't believe in my own religion. He is saying something about me that I resent more: that I've ever said anything about the Mormon faith. The fact is, I owe my start in politics to a couple of wonderful people of that faith.
Matthews was not knocking Beck's religion or his own, he continued, but the bigotry that exists within them. "I hope he corrects it," he added.
Here it is, via MSNBC:
Have a tip we should know? tips@mediaite.com