Chris Matthews: GOP Does Believe In Gay Marriage… Because They're All Married To Wayne LaPierre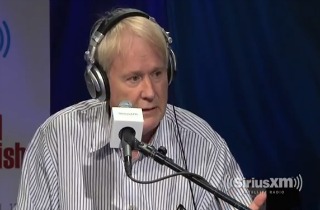 Speaking to SiriusXM radio host Michael Smerconish on Thursday, MSNBC host Chris Matthews weighed in on the Senate's failure to pass new gun control legislation on Wednesday. He said that the Republican Party has become the made the decision to become the "NRA party." Matthews added that the GOP appears to believe in same-sex marriage when it comes to their relationship with National Rifle Association CEO Wayne LaPierre. "I think they all married him," Matthews opined.

RELATED:Fox's Megyn Kelly Grills Wayne LaPierre On The NRA's Opposition To CT's New Gun Magazine Limits
Smerconish asked Matthews what happened to the days when former House Speaker Tip O'Neill (D-MA) and President Ronald Reagan having a drink together after a day of fighting partisan political battles.
"Don't jump into the ethnic notion that the Irish get together and drink because this isn't true," Matthews said taking offense.
"It has nothing to do with them being Irish," Smerconish protested.
"Yes it is," Matthews insisted. "I know the game that's being played here." He added that Reagan didn't drink and O'Neil did not "drink on the job."
The conversation moved on to the failure of the various gun control amendments to pass the Senate on Wednesday. Smerconish asked if Matthews was as shocked as he was in that outcome.
Matthews said that the NRA is able to arrest a burgeoning career in Republican politics if they mark you as an anti-gun legislator. He added that gun owners, unlike most voters, have one concern and that is their right to own firearms.
"Republicans do believe in same-sex marriage when it comes to Wayne LaPierre," Matthews said later. "I think there's a problem with that party. I don't know why they've become the NRA party, but they have."
Watch the exchange via SiriusXM Radio:
h/t The Blaze
> >Follow Noah Rothman (@NoahCRothman) on Twitter
Have a tip we should know? tips@mediaite.com