Chris Matthews Has Worst Week of 2009 – Headed For Worst Finish In Four Years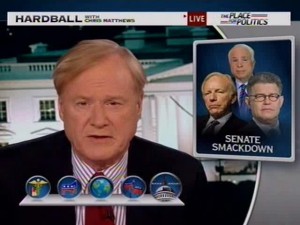 MSNBC's Hardball is slowing down – as 2009 is coming to a close, the program is seeing some of its worst ratings of the year.
Chris Matthews has been a mainstay of the MSNBC line-up for years, but December is shaping up to be one his worst months compared to the rest of the cable news landscape.
Matthews had his worst week in 2009 last week in the A25-54 demographic for his 5pmET live airing, averaging 88,000 viewers, according to Nielsen data. The previous week, he had his 2nd worst week, averaging 99,000.
For the month of December, the program is averaging 96,000 in the demo through last Friday. That puts the MSNBC program in 4th place in the category – slightly behind HLN's Prime News. If the program finishes in 4th place for the month, it would be the first time since September 2005 that Hardball finished in 4th place.
It should be noted that the program is doing better in total viewers – solidly in third place behind Fox News and CNN but well ahead of HLN. Also, the 7pmET repeat of Hardball is faring better.
What could be the reason for the decline? It may have something to do with the lead-in – which MSNBC is about to change. It was announced earlier this month that Dylan Ratigan would move to the 4pmET timeslot with a new program (he currently hosts Morning Meeting at 9amET). The hour has been a news program anchored by David Shuster and Tamron Hall since June. Ratigan's big personality could help Matthews get back to, at the very least, 3rd place.
Still, closing the year with its worst ratings of 2009 – and in a potential 4th place finish – is noteworthy for the MSNBC veteran.
—–
» Follow Steve Krakauer on Twitter
Have a tip we should know? tips@mediaite.com