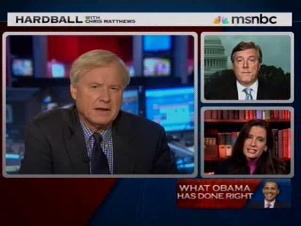 MSNBC's Chris Matthews had a pair of guests on last night, one from the right and one from the left, to rate Pres. Obama's first 10 months in office.
The discussion was predictable, but Matthews' ad-lib close, when he compared Hardball and "some of the other shows on this network" was not.
Matthews had Steve McMahon, a democratic strategist, and Kate Obenshain, Vice President of the Young Americans Foundation, for the discussion, which saw Matthews side with McMahon almost exclusively throughout the entire interview.
At the end, Matthews had this to say (h/t @HowardKurtz):
You know, Kate, people on the left who watch…let me just tell you, at Thanksgiving time with really a full heart, the reason people on the left sometimes ask me, 'why do you have so many Republicans on the show, and some of the other shows on this network don't have as many on like you,' I bring you on so that people can see what Republicans are like. Kate, thank you very much for coming on, Kate Obenshain, and it's great to have you on to remind everybody what a Republican looks like. Steve, thank you, you've been great tonight. I'm being a little sarcastic. You've been great tonight, Kate. You've made the point I wanted to make.
The awkward close seemed to jokingly touch on two points – the fact that some other shows on MSNBC feature far less Republicans and right-leaning guests than Hardball, and Matthews' assertion that Obenshain's arguments proved his point about how wrong those on the right really are. The first point seems to be aimed at hosts like Keith Olbermann, Rachel Maddow and Ed Schultz, whose shows feature far less debate and far more validation of their own ideas.
As for the other point, while Matthews was certainly a supporter of Pres. Obama during the 2008 campaign (the infamous 'thrill up my leg' comment), he has recently been critical of the Commander-in-Chief's inaction as well. Still, he seems to give him the benefit of the doubt during this review segment.
Here's the end of the interview last night:
—–
» Follow Steve Krakauer on Twitter
Have a tip we should know? [email protected]