Chris Matthews Hilariously Takes Issue with Someone Else Using Hyperbolic Rhetoric
Feldman: Chris Matthews Hilariously Takes Issue with Someone Else Using Hyperbolic Rhetoric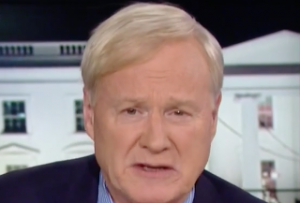 On Monday's Hardball, Chris Matthews took issue with someone engaging in hyperbolic rhetoric. Specifically, a Republican state senator who said that Obamacare "has done more damage to the USA then [sic] the swords of the Nazis, Soviets & terrorists combined." This state senator has not backed down, and Matthews had some fun taking him down, saying that "Ted Cruz has a formidable challenger in the hyperbole department," but it's not as if Matthews himself has been immune from making over-the-top statements of his own.
I mean, I really don't even have to go that far back to find an example to make this point. It was just last week that Matthews declared that conservative radio hosts are just as crazy as Kim Jong-Un (meaning that every uncle in the country should watch out for Glenn Beck now).
Saying Obamacare's worse than the Nazis? To the nuthouse! Comparing political opponents to the uncle-killing leader of North Korea? To the prompter!
And he also recently followed up a softball interview with President Obama by saying Obama's critics are less patriotic than the apartheid leaders in Nelson Mandela's South Africa.
Matthews has always professed to be above the fray and has rejected the label "media critic" on more than one occasion (though it didn't stop him from going after Beck and Mark Levin last week). But this is getting tiresome. This is not the first time Matthews has said something patently outrageous only to move on the next day and say, "Hey, why can't the other side be more civil?"
Watch the video below, via MSNBC:
[h/t Newsbusters]
[photo via screengrab]
— —
Follow Josh Feldman on Twitter: @feldmaniac
Have a tip we should know? tips@mediaite.com
Josh Feldman - Senior Editor