Chris Matthews: 'I Got My Job Here Without Ever Showing Any Paperwork From School'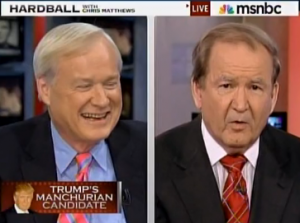 The debate over whether it is legitimate to question President Obama about his birth certificate and his academic records spilled over into Hardball today as Chris Matthews and Pat Buchanan hurled humorous insults at one another during a heated debate. The MSNBC colleagues clearly enjoyed the back and forth as neither seemed to shy away from revealing their true opinion about Obama's academic credentials.
Matthews began by hoping Buchanan would denounce Donald Trump's latest accusations that Obama was a "terrible student" who didn't deserve to get into the prestigious schools he attended. Buchanan responded by wondering why Matthews was more interested in attacking people who ask questions, rather than demanding to see Obama's academic records. Especially since Buchanan thought it was a legitimate issue to confirm, as he suspected, that Obama was a beneficiary of affirmative action.
Matthews didn't like the implication from Trump, and now Buchanan, that Obama wasn't intelligent, especially since "we watch him every day showing this kind of brains." During the debate, Matthews was saddened that he had to now label Buchanan a "birther," but Buchanan later shot back:
"What I want to know is why you don't want to see the test scores? Why don't you want to see any of these things? You're supposed to be a journalist – the people's right to know!"
Buchanan concluded that Obama should just release his school records so we can all "see the greatness he achieved." Matthews scoffed, saying "I got my job here without ever showing any paperwork from school." Buchanan quickly realized how that comment completely out of context is pretty funny and joked in response, "well that's apparent!"
Watch the clip from MSNBC below:

Have a tip we should know? tips@mediaite.com