Chris Matthews: 'I Think I See' 'Code' In White Voters Giving Obama Low Marks On 'Moral Tone'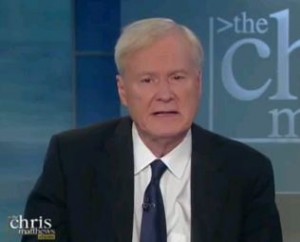 On his show today, Chris Matthews looked at the all-important white voter bloc and how important it may be for President Obama to secure, or at least win a respectable percentage of, white voters. He brought up a poll showing almost twice as many white voters would be pessimistic following an Obama victory as they would a Mitt Romney victory. Matthews and the panel seemed to agree that Obama probably would not get a majority of white voters, but he would still have to work for their support.
RELATED: Marvelous: Did President Obama Play The 'Whiteguy' Card On Mitt Romney?
Time executive editor Michael Duffy narrowed the block down to just white men, given that only 40 percent of that group voted for Obama last time around, and his poll numbers have only dropped from there. Matthews asked if it was more to do with jobs or for something more "ethnic." Duffy pinned it on the economy and unemployment numbers.
Matthews wondered if, like previous presidential challengers, Romney has the kind of optimistic spirit that could rally the inspired masses around him. Liz Marlantes quickly deflated that idea, pointing to Romney's low likability numbers. Matthews found that inconsistent with the numbers on pessimism, but Marlantes reminded him that those numbers were from a specific voting bloc. She also pointed to numbers showing that many Americans believe that no matter who wins in November, the country will stay largely the same.
Matthews then brought up more numbers from the white voting bloc, showing that significantly more white Americans believe that Romney will set a "proper moral tone" for the country than Obama. Matthews declared in reaction to those numbers, "I'm looking for code. I think I see it." David Leonhardt suspected that both race and religion have played a part in opinions of the president from white voters, but he did add that the economy could technically be considered a moral issue to many people, hence why Obama scored much lower than Romney.
RELATED: Mitt Romney's 'Obama Isn't Working' Banner Evokes Racial Stereotypes
The Daily Beast's Patricia Murphy suggested that the number may also be based on how little Obama brings up religion in his public life, as opposed to most other other politicians.
Watch the video below, courtesy of NBC:
Have a tip we should know? tips@mediaite.com
Josh Feldman - Senior Editor