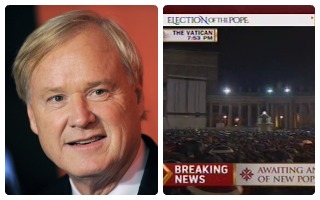 MSNBC host Chris Matthews declared on Wednesday, while awaiting the announcement from the Vatican regarding who would become the next pope, that he would prefer the next head of the Catholic Church be an American. "I'm a nationalist," Matthews announced. He said that such a development was unlikely, but it was important for Americans to have serious papal candidates. Just like America eventually elected a black president in Barack Obama, the Vatican may eventually come around to an American pontiff.

RELATED: NY Times Buries The Lede: Anderson Cooper's Ratings Surge At 8PM
"I do think the personality of the next pope is going to be really important," Matthews said. He went on to describe the benefits that Angelo Scola, the Cardinal of Milan, would bring to the Vatican.
"We're all nationalists – I'm a nationalist. I mean, I want an American pope too," Matthews added. "I don't think it's going to happen because I think the Cold War still has the power in the world. The Cold War said you can't choose between East and West. You had to come down somewhere in the middle."
"We're still the superpower, too, and it's tough to get people to vote from other countries for the superpower candidates," Matthews added. He noted that it was a good thing for Americans to have "candidates in the field." Eventually, the barriers to an American pope will be worn down, Matthews observed.
Watch the clip below via MSNBC:
> >Follow Noah Rothman (@NoahCRothman) on Twitter
Have a tip we should know? tips@mediaite.com