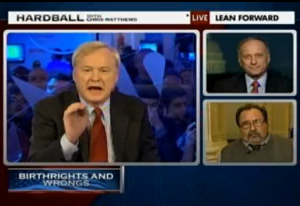 Chris Matthews is sick of talking about illegal immigration. That's mostly because he has a solution and he decided on it a long time ago. Matthews is a staunch proponent of a national ID card and is positive it will solve most of, if not all, of our illegal worker problems. Thus, he wasn't having any of it listening to Rep. Steve King trying to explain his plans for changing the 14th Amendment so as to end automatic birthright citizenship.
Matthews, broadcasting from the CES floor, let King get his plans out (although with frequent interjections) for most of the segment. However, when King wouldn't join him in believing the ID card would work (King doubted it would be enforced), he was fed up. By the end, he had this to say:
"Look, I think we can always have excuses but I'd like to see somebody agree. I like- [Rep. Raul] Grijalva, Congressman- I like the principle. If we can agree on the principle, to stop arguing about something and solve a problem. This is a man made problem. Jack Kennedy said the problems of man are man made, they can be solved by man. This isn't rocket science. And it bugs me that the unions and all the other people in this country won't solve the problem. They ought to solve it tomorrow. I'm tired of all this stupid bickering over illegal immigration."
In this way, the segment was very similar (even down to the appearance of Grijalva) to one last July when Matthews was so annoyed by Rep. Rick Murphy opposing the ID card that he called him a "BS artist."
Clearly the easiest identification here is knowing that, if you're someone who doesn't support the ID card, you're not going to be someone Chris Matthews enjoys listening to.
Check out the clip from MSNBC below:
Have a tip we should know? tips@mediaite.com