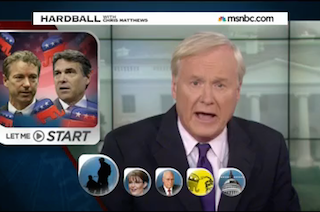 This morning, Joe Scarborough called the idea of Sen. Rand Paul (R-KY) becoming the Republican nominee for president in 2016 total "fiction." But, as we learned this afternoon, his MSNBC colleague Chris Matthews disagrees.
Matthews began his show Monday evening by taking on the "big civil war" that's broken out in the Republican Party, this time between Paul and Texas Governor Rick Perry. He compared the fight brewing in the GOP over the Iraq War to the explosion that occurred in the Democratic Party at the 1968 Chicago convention over Vietnam.
"Just as then, the party that prosecuted the war is the one suffering from the division," he said. "Back then it was Lyndon Johnson defending himself against Bobby Kennedy and Eugene McCarthy. Today, it's another Texas hawk defending himself against Rand Paul."
Matthews quoted Richard Nixon of all people, from Pat Buchanan's new book The Greatest Comeback
, to make his point that Paul would emerge victorious.
"If you ever hear of a group forming to stop X, put your money on X," Nixon reportedly told the author.
"If Rick Perry is out to stop Rand Paul then history shows the senator from Kentucky might be the candidate who win this is thing, the one going up against Hillary Clinton," Matthews said. "If they are already ganging up on Rand Paul and Perry thinks the smart thing to do is pile on, I say, put a few bucks on Rand Paul. I would."
Presumably, Matthews' contract with MSNBC prevents him from actually placing any real bets on the senator.
Watch video below, via MSNBC:
[Photo via screengrab]
— —
>> Follow Matt Wilstein (@TheMattWilstein) on Twitter
Have a tip we should know? [email protected]