Chris Matthews Furious About Poll Showing Reagan As America's Favorite President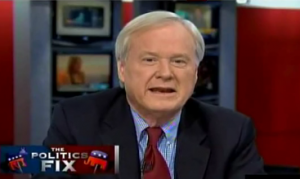 Every year in honor of Presidents Day, Gallup conducts a poll where they ask Americans who is the greatest United States president? This year's results revealed Ronald Reagan as the favorite choice among Americans and Chris Matthews was none too pleased, dismissing the poll as just a "memory quiz."
Matthews was disgusted with the idea of so many recent presidents being listed, as even President Obama made the list at number seven. Yet Matthews was clearly most disturbed when speaking about the supposedly greatest president:
"The greatest president in history according to the American people with their limited memory is Ronald Reagan. Keep in mind these are not historian rankings, these are peoples. By the way you should insist, before anybody participates in one of these ridiculous polls – please list the presidents and then pick the best. Don't just go with the ones you can remember. It's like the greatest movie of all time was the one I just went to."
Others can wonder whether Matthews would have had the same opinion if a Democrat president received the top honor rather than Reagan. Yet given the fact that Abraham Lincoln placed second, proving Americans did not just pick someone from their recent memory, Matthews might have to face the fact that even if Americans saw the name of every president and studied all of their accomplishments, Reagan still would probably be high on the list.
In related news, tonight Matthews unveils a documentary on one of his favorite presidents, Bill Clinton. The special, titled "President of the World," airs tonight at 10 p.m. Eastern on MSNBC.
Watch the clip from MSNBC below:

Have a tip we should know? tips@mediaite.com