Chris Matthews: Is GOP Purposefully Trying To 'Incite More Trouble' With Bin Laden Picture?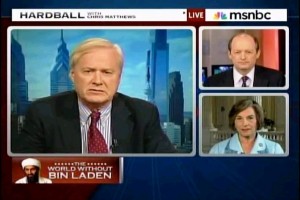 Today on Hardball, Chris Matthews was discussing the Osama bin Laden death photos with NBC News' Michael Sheehan as well as Rep. Jan Schakowsky, one of the "lucky" few who's been invited by the White House to view the pictures. Schakowsky agreed with the administration that the pictures should not be released which led to Matthews asking why Republicans were pushing so hard for them to be. He wondered aloud if, perhaps, the Republicans were actively trying to "incite more trouble."
Citing both the trouble caused by Pastor Walrus-Face as well as the murder of Dutch filmmaker Theo van Gogh, Matthews phrased the question thusly:
"Why are the right-wing people in our country determined, randy, to get that picture out to the world? Why are people like Palin determined to get that picture out there? Are they bear-baiting? Do they like to incite more trouble? Do they want this war to go on? Are they enjoying it?"
Really? Matthews can't think of a single reason the Right is pushing this besides the idea that they actually want more people to get murdered in the Middle East? How about the simple explanation that, by keeping this debate in the forefront, it distracts from Barack Obama's accomplishment. I mean, that's pretty obvious. Can Matthews really not see that. It's almost as if-
Wait a second. Matthews is speculating about a shadowy group secretly trying to drive the world into chaos for their own gain…I've got it!
Forget Eric Bolling and Andrew Napolitano, Chris Matthews is becoming the new Glenn Beck!
Watch the clip from MSNBC below:
Have a tip we should know? tips@mediaite.com