Chris Matthews: It's 'Ludicrous' That Eliot Spitzer Is On CNN Talking About Rep. Weiner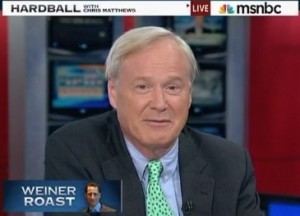 Chris Matthews interviewed two guests about the ongoing Anthony Weiner controversy, yet the most interesting moment by far came when Matthews couldn't hide his bewilderment as to why Eliot Spitzer, an up-close veteran of political sex scandals, was on television talking about Weiner. And Matthews seemed comically offended that Weiner's only future career path might similarly be a job in television.
Speaking with Democratic Congressman James Clyburn, Matthews warned Clyburn that even if the Democratic leadership tries to keep Weiner from speaking out on issues, there are certain news channels that welcome survivors of political sex scandals:
"I hate to break it to you, but some other network can put Eliot Spitzer on television. . . . That was ludicrous that he's even talking about this case."
Spitzer hasn't shied away from the story, and has even been confronted about his own similar past troubles. Yet Matthews wasn't quite done discussing the absurdity of Spitzer being on television. Later in the segment, after Alex Wagner suggested Weiner might be able to rehabilitate himself and find a second career in media, Matthews very humorously ranted:
"Thanks. What are we – are we the elephant's graveyard? Is this where they come? I mean is this Spitzerville? I mean does everybody come over here when they have a problem? We have some bad precedents operating lately in this business . . . with all due respect Governor Spitzer . . . I would recuse myself from some of these topics, if I were him. But I'm not a media critic."
Spitzer has yet to really engage in a full-throttle cable news feud, but Matthews sure seems to be extending an invitation for one right here. Although it seems doubtful that Spitzer will take the bait, since this topic hits so close to home.
Watch the two clip from MSNBC below:

Have a tip we should know? tips@mediaite.com