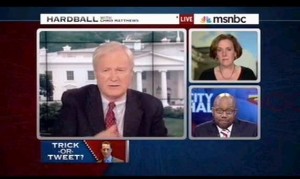 After a series of "strange" interviews with Democratic Congressman Anthony Weiner today, Chris Matthews asked liberal commentator Joan Walsh why was Weiner "hedging" rather than just clearly saying he had nothing at all to do with the "lewd" photo. Walsh wanted to give Weiner the "benefit of the doubt" with all of his explanations, yet Matthews wasn't buying Weiner's changing stories about his "brief encounter" with a "suspicious package."
Matthews was amazed that Weiner couldn't affirmatively say that he never took a picture like that, since Matthews concluded "how many pictures do you have like that, most people don't have any!" Yet Walsh attempted to argue that this whole ordeal was none of her business and she said "I'm inclined to give him the benefit of the doubt" since the story originated with Andrew Breitbart. Matthews and Walsh both got into a bit of a tizzy debating Breitbart's credibility, with Walsh claiming he can't be trusted because of his past "smears" of people like Shirley Sherrod, while Matthews briefly defended Breitbart and suggested Walsh was just trying to change the subject.
Despite Walsh asserting "this is a disgusting place to be in politics," Matthews was not convinced Weiner should be let off the hook just yet, particularly because of the different versions of the story he heard from Weiner. The late admission by Weiner that he didn't know who had access to his Twitter account particularly troubled Matthews and led him to the overall conclusion that he actually thinks Weiner himself is at fault.
Watch the clip from MSNBC below:

Have a tip we should know? tips@mediaite.com