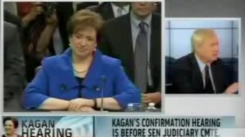 When is a Supreme Court confirmation hearing not just a confirmation hearing? One gets the sense we are about to find out. Elena Kagan, one of the less controversial SCOTUS nominees in recent years, is about to turn into the star of a headline circus if the cablesphere and the politicians questioning here have anything to do with it. How much of it will actually have to do with Kagan remains to be seen. On MSNBC last night Chris Matthews remarked that Kagan was "a voodoo doll" for President Obama and that the GOP has been using their opening statements to "hurt the president with each headline."
The opening statement in question was that of Senator Jeff Sessions (R-AL), ranking member of the Senate Judiciary Committee, who was particularly critical of Kagan. Matthews – not one to be outdone in the hyperbolic headline department – paraphrased thusly:
It's a helluva bill of particulars: She's anti-military, pro-terrorist, pro-illegal immigrant, and a socialist!
Needless to say (I hope), Sessions did not actually say Kagan was pro-terrorist. What he said was: "Dean Kagan also joined with three other law school deans to write a letter in opposition to Senator Graham's legislation establishing procedures for determining who was an "enemy combatant" in the War on Terror. She compared this legislation to the "fundamentally lawless" actions of "dictatorships.""
Safe to say, Kagan's voodoo doll fill-in probably doesn't end with President Obama; plenty of other folks hoping to use Kagan to spark some traffic-inducing headlines. Watch the Matthews segment below.
Have a tip we should know? tips@mediaite.com