Chris Matthews: Obama 'Perfect' Father, Husband, American — But 'All They Do Is Trash The Guy'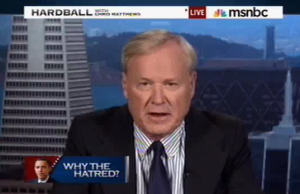 It's far from a secret that MSNBC host Chris Matthews has something of a soft spot for President Barack Obama. Lest you forget about the thrill that once ran up his leg, Matthews issued another vehement defense of the president on Tuesday, lamenting that even though Obama is the "perfect" father, husband and American, all his critics do is "trash" him.
RELATED: Sununu Apologizes For Saying Obama Should Learn To Be American, Attacks Him For Denigrating American Values
Above a chyron posing the question "Why The Hatred?" Matthews decried the "crazy yahoo talk" — citing examples such as Newt Gingrich, who asserted Obama is the most "radical" president in American history, as well as talk of Obama's "colonial" attitudes and John Sununu's recent remark that Obama should "learn how to be an American." Incredulous, Matthews argued that the president "has done everything right." He "raised his family right, he's fought his way all the way to the top of the Harvard Law Review, in a blind test becomes head of the Review, the top editor there. Everything he has done, he is clean as a whistle."
Matthews further lamented:
He's not only broken any law, he's never done anything wrong. He's the perfect father, the perfect husband, the perfect American — and all they do is trash the guy. And it's impossible for me to believe they would have said the same thing about a Walter Mondale, a Jimmy Carter or a Bill Clinton.
Given the circumstances, Matthews arrived at the conclusion that there's "an ethnic piece to this." But that it's difficult to discern because it's hidden under ideology.
So much for that "nobody's perfect" childhood lesson.
Take a look, via MSNBC:

(H/T RealClearPolitics)
Have a tip we should know? tips@mediaite.com