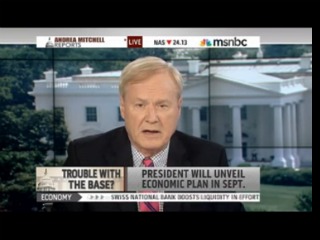 Chris Matthews is fed up. Sure, that's sort of his shtick, but this time around, he's taken a break from decimating Republican politicians and is reserving his ire for none other than Barack Obama. The Hardball host, after giving a brief rundown on Republicans' support of laissez-faire economics (which consists, apparently, of telling the government to "get out of our face"), said he has no idea what the President's policy happens to be or how it might differ from what Republicans are trying to do:
What's the Obama strategy? I don't know what it is right now. And that's the challenge: What is it exactly, or even generally, what's the President going to do? Now we're getting these stories out now that he's going to come back on Labor Day or day after Labor Day and give us a jobs program and a deficit reduction program, both, in two addresses.

Well, let's hope it's more than just, you know, cutting the payroll tax, extending unemployment, something to do with Panama or Colombia and South Korea trade deals, and patent reform. That's too sundry. That doesn't have any impact. That doesn't have any bang to it.
Then, Matthews offers advice on what it is that Obama should do (Hint: Something.):
I think he needs to come out with something that the conservatives won't like, the middle-of-the-road will like and will have to buy, and the liberals will definitely like. But he has to do something that they disagree with on the right. He has to draw the line, I think, and say the government can create jobs. Every member of Congress, left, right and center, has spent most of his or her career trying to get government money into their districts for jobs for projects of different kinds.
Matthews wondered why the President doesn't simply take a look at proposals from both Republican and Democratic members of Congress (yes, even Michele Bachmann) and give them government funding for projects that will create jobs in their respective districts. (An idea, he admitted to guest Andrea Mitchell, that he got from talking to his MSNBC colleague Rachel Maddow.)
"Do some jiu jitsu," he continued, "Take all the Republican members of Congress, list everything they've ever asked for, in terms of federal investment in their districts, and say 'YES!'"
Mitchell then introduced a clip of Obama comparing negotiations to telling the First Lady she can no longer shop, but that he will keep his golf clubs. Matthews was less than amused:
Look, I don't think that's very strong and I think it's a bit upper middle class to be talking about golf clubs and dresses. And people right now are in a recession; they're not quite in that league right now.
Sad face emoticon. Can these two patch things up?
Take a look at the video, courtesy of MSNBC:
Have a tip we should know? tips@mediaite.com