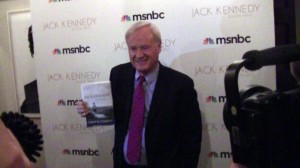 In an interview with Mediaite Tuesday evening, Hardball host Chris Matthews, talked about his place in the media landscape, saying his is a "fact-based, heat-seeking" show. Asked about his status as a media bogeyman with the political right, Matthews took to the title with relish.
"I love it," he said, adding, "Gandhi was right. First they ignore you, then they laugh at you, then they attack you, and then you win."

Toward the end of an MSNBC book party to promote Matthews' new tome, Jack Kennedy: Elusive Hero, I managed to corral the author for a brief interview about his book, how it applies to current politics, and a few other topics.
In this clip, I began by asking Matthews about the current media landscape. He said, I like to go where the fight is," and called Hardball a "fact-based heat-seeking  show," observing that he likes "to start the show with dessert, the hottest story. Not necessarily the big news story, but the hot story that engages people."
Over the years, Chris Matthews has become a lightning rod for right-wing critiques of an "in-the-tank" media, and his now-famous observation of then-candidate Obama's inspirational qualities, in which he said, "I felt this thrill going up my leg," has become a taunting mantra for them.
I diplomatically tried to ease into whether Matthews is cognizant of his status as bogeyman to the right-of-center media, but he dug into the question with relish.
"I love it," he said, adding, "People tell me Mark Levin quotes me, I love that. Gandhi was right. First they ignore you, then they laugh at you, then they attack you, and then you win."
While he enjoys the scorn, Matthews was careful to note that his critics haven't gotten into his head. "I hate to break their hearts," he said, "but I don't even know about it. I hear about it occasionally. It's fun."
Here's the clip of that portion of our interview:
Have a tip we should know? tips@mediaite.com