Chris Matthews On Inevitable Romney Nomination: 'Pretty Sad, But I Do Think It's Interesting'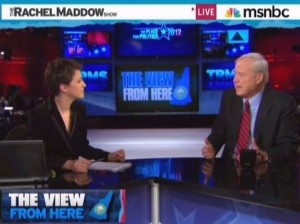 Chris Matthews descended from his Hardball perch to appear on Rachel Maddow's program tonight to preview next week's New Hampshire primary and size up the relative strengths and weaknesses of the candidates. Matthews' observations of the New Hampshire primary, and possibly the other northeastern Republican primaries, was that there's really nothing interesting that's going to happen. In that region of the country, Matthews argued, Romney is pretty much guaranteed a victory over his GOP rivals.
RELATED: Chris Matthews: Republicans 'Don't Have A Thrill Up Their Leg' For Mitt Romney
Matthews seemed to think this election just wasn't as exciting as past ones (like in the days of JFK), and Republican voters aren't as inspired by their candidates as the party would like them to be. Maddow noted that contrary to what she heard about Rick Santorum bringing in large, excited crowds, she thought the room looked "bummed out" and in fact, one of the more newsworthy items to come from a Santorum event this week was that he got booed by members of a crowd when answering someone's question on gay marriage.
Going back four years, Matthews brought up his now-infamous "thrill up my leg" comment he made after listening to Barack Obama speak, and defended it as the result of hearing a candidate so passionately about the United States. Matthews thought the journey the president made was an inspiring one, and a truly American one, and he didn't see any candidate being as inspiring this time around.
Matthews addressed Mitt Romney's almost inevitable path to the GOP nomination by basically admitting he will win not because of his ideas, but because it's his turn to be president.
"Romney is just the guy whose turn it is. And I hear the editor of… the Concord paper talk about 'You could have predicted this election in your sleep.' That this was going to be Romney for regional reasons, he's the local guy. Like, what else is new? And I think that's pretty sad, but I do think it's interesting."
RELATED: Bob Schieffer To RNC Chairman: Why Does Mitt Romney Generate So Little Excitement?
Matthews pointed out part of Romney's electoral strategy was to claim all sorts of conservative credentials that his past political ambitions and positions have not necessarily lined up with. However, despite how uninspiring the race has become at this point, Matthews still had hope for the "phenomenon of politics" to jolt our collective conscience once again, and Romney may find the coming months to be a great challenge to winning the nomination.
Watch the video below, courtesy of MSNBC:
Have a tip we should know? tips@mediaite.com
Josh Feldman - Senior Editor