Chris Matthews On Likely GOP 2012 Candidates: None Have Any "Panache, Excitement, Pizzaz, Charisma"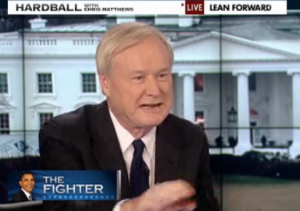 Chris Matthews welcomed two of his liberal regulars Richard Wolffe and Eugene Robinson to discuss likely candidates who will be running for the Republican nomination. Republicans Mitt Romney, Tim Pawlenty, Haley Barbour, Rick Santorum and Matthews' favorite name to humorously pronounce Newt Gingrich were discussed and Matthews was not impressed.
Summing up the many Republican candidates who ran in 2008, Matthews weirdly described that field of candidates as "lots of crazy people on that list – you know cats and dogs." Regarding this year's crop of contenders, Matthews asked his guests to absorb these exciting names and concluded "that's not a colorful field of people . . . there's nobody in there with any panache, excitement, pizzaz, charisma, anything like charisma!" Then Matthews described Barbour as a good ol' boy who reminds him of the character Jacob Marley from A Christmas Carol, since Marley had to carry around heavy chains for eternity and Barbour too won't be able to escape his good ol' boy roots. And the award for most random literary reference of the day goes to . . .
Robinson and Wolffe didn't provide much new analysis, just rehashing a belief that Mike Huckabee might run solely to be a "Romney-destroying missile," while also discussing how Romneycare, the model for President Obama's healthcare reform legislation, is an issue no one quite knows how to handle. Finally, in a bit of a surprising reversal, Matthews thinks Obama could be very vulnerable and agrees with Bill Kristol who is urging every Republican not to wait until 2016 and instead to run now. If for nothing else, the clip is worth watching just to get a chuckle out of Matthews' repeated humorous pronunciation of the name "NEWT!"
Watch the clip from MSNBC below:

Have a tip we should know? tips@mediaite.com