Chris Matthews On Obama: "Older White People Still Have A Problem With This Guy"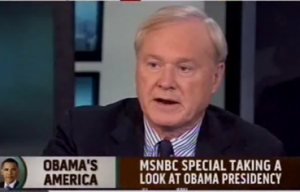 MSNBC host Chris Matthews appeared on television earlier than usual today to promote his special tonight called "Obama's America: 2010 and Beyond" that will reflect on the first two years of Obama's presidency. Matthews expressed that the general desire of American people is usually to want to see their president succeed, and offered up some controversial theories to explain why, in his opinion, Obama has yet to receive such universal praise.
After showing a clip from the special of two mature men offering conflicting opinions on whether they still thought Obama was an inspiring leader, Matthews remarked:
Did you see the age difference there? . . . It's significant. I think older Americans, older white people still have a problem with this guy. And I think that's a generalization and I'll stick with it. I think younger people do not see race as an obstacle. I don't think – I think, they're much more non-judgmental, in fact, about ethnicity, they just say that's not relevant, in fact, they say it's irrelevant and they don't even notice it. Whereas older people notice it all the time.
Host Chris Jansing, probably like most viewers, did not as readily notice the age difference between a middle-aged man and an older man as something "significant." Yet even more strange was Matthews implication that only "older white people" are not supporters of the President, and furthermore, his insistence that of these "older white people," most of them only dislike Obama because "all the time" they are too preoccupied with the fact that he is black.
This random injection of race was reminiscent of Matthews' weird admission during last year's State of the Union address where he claimed about Obama "I forgot he was black tonight for an hour . . . I said wait a minute, he's an African American guy in front of a bunch of other white people and there he is the President of the United States." It seems Matthews certainly is noticing race "all the time" so maybe he proves his own theory, himself being a member of the class of "older white people?"
Watch the clip from today on MSNBC below:
And check out the clip from the State of the Union Address on MSNBC from January 27, 2010:
Have a tip we should know? [email protected]