Chris Matthews: Only Way Romney Can Beat Gingrich Is To 'Catch Up To Him With His Hatred Of Obama'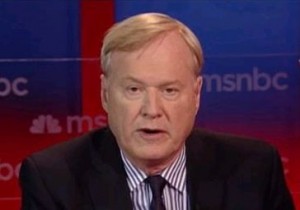 Last night, all the networks were talking about Newt Gingrich and what his victory in South Carolina means for the future of the GOP presidential race and the chances that Mitt Romney will end up being the nominee. On MSNBC, Chris Matthews told Rachel Maddow that at this point in the race, Romney is incredibly vulnerable, and if he is going to end up being the party nominee, he is going to have to shift to the right to attract the same kind of voters that are now flocking to Gingrich.
RELATED: Chris Matthews On Inevitable Romney Nomination: 'Pretty Sad, But I Do Think It's Interesting'
Matthews predicted that no matter who eventually wins the GOP contest, the battle lines have moved significantly to the right because "Newt Gingrich has set the standard now." He argued there was only one sure way forward for Romney in the race.
"The only way that Mitt Romney can beat Newt Gingrich now is to catch up to him with his hatred of Obama, his willingness to take on the American establishment. President Obama represents, I believe it's fair to say, a center-left Democratic party. Now the Republican party is moving over to the right, if not the far right. Newt is taking it there. The only way Romney can beat him now… is to catch up to him and the move in the party to the right."
He anticipated the Obama team might end up playing for the center in the upcoming election if this were to be the case going forward. Maddow noted the unique situation of three separate winners in three separate states, asking Matthews what could possibly account for the "historic volatility" that has threatened Romney's near-inevitability of winning the nomination.
RELATED: Chris Matthews Panel Predicts Team Obama Hoping For Gingrich Over Romney In 2012
Matthews recalled the "insanity of last year" with candidates emerging every month or so as alternatives to Romney, and believed Gingrich's second surge was the continuation of the "Not Romney" trend from last year, only more damaging because now it's costing Romney delegates. Matthews compared this race to the Republican competition in 1964, when after two other candidates took two different states, Barry Goldwater suddenly surged after one of his rivals got embroiled in scandal. But as many people will recall, 1964 did not turn out so well for the Republican party. Matthews said that this year we're seeing an "unstable pattern" with no discernable logic to it whatsoever.
Watch the video below, courtesy of MSNBC:
Have a tip we should know? tips@mediaite.com
Josh Feldman - Senior Editor