Chris Matthews Guests: Boston Not 'Big' Enough For 'The History Books,' Obama Avoided Bush's Mistakes On 9/11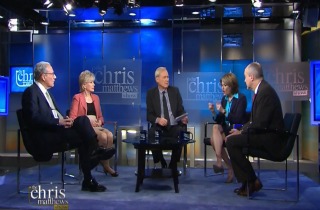 During a panel discussion on Chris Matthews' Sunday program on NBC, his guests discussed what they thought the lasting impact that the Boston Marathon bombing, reaction, and investigation will have on the national consciousness. Washington Post reporter Bob Woodward told Matthews that he did not think the Boston attack was "not necessarily that big an event" to be looked back on as a paradigm-changing. CNN chief political analyst Gloria Borger added that President Barack Obama's actions during the crisis were a reflection of what he learned from "George [W.] Bush's mistakes" following the September 11, 2001, attacks.

RELATED: WATCH: Obama Speaks On Police Arrest Of Dzhokhar A. Tsarnaev In Watertown, MA
Matthews and his guests reflected on how the Boston attack had impacted life in Washington D.C., including forcing the closure of a pedestrian walkway in front of the White House.
"The Boston event obviously a serious tragedy, but I don't know whether it's going to go down in the history books," said Woodward. "The question – it is not necessarily that big an event."
"9/11 was a giant event, obviously, 3000 people killed, but the lingering question always was 'are they coming again?'" Woodward noted. "And, what we know about the Boston case now, it seems – emphasize seems – that this was not organized, that this is not some ideology."
"3 people were killed and yet so much emotion," noted Matthews.
"I think what we have gotten used to is turning to the President of the United States as somebody who keeps us informed, consoles us, lets us know how nervous or not nervous we ought to be," Borger opined. "I think the fact that we saw President Obama come out very quickly after Boston, even though clearly this was an ongoing situation, to talk directly to the American people is something that President Obama learned from George Bush's mistake after 9/11."
Watch this clip below via NBC:
> >Follow Noah Rothman (@NoahCRothman) on Twitter
Have a tip we should know? tips@mediaite.com