Chris Matthews & Panel Discuss How 'Television Creates A False Intimacy' For Candidates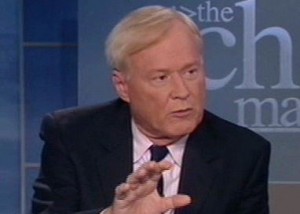 Hot off his performance moderating last night's Republican debate, National Journal's Major Garrett joined Chris Matthews and his fellow panelists in discussing the effect television has on political candidates. Matthews cited Mitt Romney's relaxed demeanor during the Republican debates, and wondered how much his appearance would factor into how much voters trust in him and see him as a confident leader.
Garrett believed whoever becomes the Republican nominee will have to show they are confident and trustworthy, but pointed out that whatever connection the candidates have will have come through "the false intimacy of television."
That's the falsity of all this. You watch somebody over and over, you feel you know them. You don't know them. You are not intimate with the President of the United States. But because television creates a false intimacy, if you can convey that level of trust, you can win.
There is no doubt that how a candidate appears on television influences how the voters see them. Garrett cited 1960 as the first year television debates started to matter to American voters. John F. Kennedy, who Matthews recently published a book about, famously came out looking better than Richard Nixon. Conventional wisdom at the time was if you heard the debate on the radio, Nixon won, but if you saw the debate, and how sweaty Nixon looked, you thought Kennedy came out looking better. You could argue that this was John McCain's problem in 2008, coming across as a grumpy old man in contrast to a cool, collected Barack Obama.
At the end of the segment, Matthews noted how candidates have been caught in embarrassing open-mic moments since the days of Nixon. He played a clip of Rick Perry saying, "Adios, mo-fo." For viewers who don't know what that means, Matthews recommended they check out Urban Dictionary.
Watch the video below, courtesy of NBC:
Have a tip we should know? tips@mediaite.com
Josh Feldman - Senior Editor