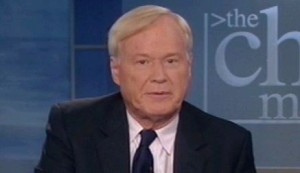 On his show today, Chris Matthews and panel discussed how several of the Republican presidential candidates, including Newt Gingrich and Mitt Romney, have been handling the Occupy Wall Street protests, given their supposed popularity with the American people.
Both Gingrich and Romney were surprisingly relaxed in their reactions to the protests. Romney insisted he cares more about creating a strong middle class than he does about the 1%. Matthews pointed to a Time Magazine poll showing that twice as many Americans have a favorable view of the Occupy Wall Street protests as view the Tea Party favorably.
RELATED: George Will: Occupy Wall Street's 'Plank' Of Debt Repudiation 'About To Go Mainstream'
Katty Kay admitted she was surprised by how long it took Americans to eventually come out to protest in light of how dire the economic situation has been for a while and given the ever-widening gap in income inequality. Joe Klein pointed out that even if Republicans like Gingrich may regard some of the protestors with disdain, the issues the Occupy Wall Street protestors are bringing up are ones that most Americans, even Tea Partiers, agree need to be addressed.
Major Garrett examined how President Obama has been dealing with the protests, and noted how much more "resonant" the president has been in fighting back against Republicans and arguing for the jobs bill he sent to Congress. Matthews and Garrett both noted that Republicans being perceived as "obstructionists" has damaged them in national polls. To that point, Klein pointed out that many of the proposals in the president's jobs bill are provisions that Republicans have generally supported in the past, like tax cuts and infrastructure.
RELATED: Ann Coulter To Hannity: People Should Look At Wall Street Protesters With 'Hilarity And Revulsion'
However, regarding the Occupy Wall Street protests, Klein pointed out that in all likelihood President Obama doesn't even agree with a lot of what they're saying. Nia-Malika Henderson stated that as long as the protests remain substantive and don't turn into some kind of "hippie commune" or something, they should continue to get widespread public support. Garrett predicted the protestors wouldn't go away until they see some indication that the economy is beginning to turn around.
Watch the video below, courtesy of NBC News:
Have a tip we should know? tips@mediaite.com
Josh Feldman - Senior Editor