Chris Matthews & Panel On Mitt Romney: 'What Hasn't He Done To Appeal To The Right?'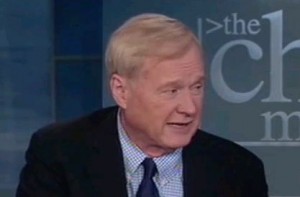 Mitt Romney's inevitable nomination by the Republican party this fall is becoming less inevitable by the day. He got swept away by Rick Santorum in three states last week, and he only won Maine in a narrow victory over Ron Paul. Romney is the candidate of choice for Republican moderates who don't want a strong social conservative nominee. On his show today, Chris Matthews asked the panel what Romney is going to have to do in order to win over more than just the moderates.
RELATED: Mitt Romney At CPAC: 'I Was A Severely Conservative Republican Governor'
Matthews noted that less than 20 percent of self-identified conservatives were backing Romney in the Republican race, and noted the focus in the campaign on social issues was certainly not helping him, since he tends to be stronger on economic issues. Kathleen Parker attributed Romney's failure in the Midwest last week to his campaign not courting the conservative base as well as his rivals, instead focusing on independents and moderates. Matthews noted all the bold, strongly conservative statements Romney has made in the past few months to court that wing of the party, and yet he has remained unsuccessful at winning most of them over. Matthews asked what, at this point, Romney hasn't done to reach out to them.
Gloria Borger actually gave the Romney campaign credit for pursuing independents and moderates, while his rivals are busy fighting over the conservative vote, which allows Romney to be less concerned with winning them over himself. Matthews cited a poll saying that the more voters get to know Romney, the less they like about him.
Chicago Tribune columnist Clarence Page brought up Romney's comments about poor people, which he didn't think were necessarily that controversial, but the problem was Romney's phrasing made it more controversial than it should have been. He pointed to Romney's "charisma deficit," and Borger agreed, saying that Romney selling himself as a business leader does not exactly inspire people.
RELATED: Chris Matthews: Romney Cannot Connect With Voters Because He Has 'No Evidence Of Having Suffered'
Matthews brought up an in-house poll he conducted among twelve of his regular guests, and most of them predicted Romney would still have issues with low voter turnout in the general election, unless, of course, President Obama does something to really light a fire under the conservative base.
Watch the video below, courtesy of NBC:
Have a tip we should know? tips@mediaite.com
Josh Feldman - Senior Editor