Chris Matthews Panel Questions Petraeus' Motive Behind Unraveling Decorated Career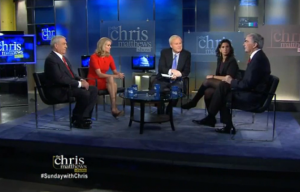 On Sunday, Chris Matthews' panel took a deeper look into former CIA Director David Petraeus' motivations behind the affair that led to his resignation. Deciphering how the decorated veteran could undo his career in such a way, the panelists also pondered why such scandals keep occurring.
"People who reach the pinnacle begin to think they can do things that other people can't do," Dan Rather observed. And then there's the other explanation: "Men are simply no damn good."
The BBC's Katty Kay agreed with Rather's first argument, noting that people in high positions are rarely contradicted and begin to think that normal rules need not apply to them. "Opportunities arise when you're in that kind of position," she said. "And let's face it, you don't go into the senior echelons of either politics or the military if you want a very quiet, mousy life."
"It's the self-sabotage that's so amazing, right?" The New York Times' Jodi Kantor remarked. Petraeus "so brilliantly constructed his career," she said, so to undo decades of work with an affair is a mystery.
ABC's Sam Donaldson disagreed with the rest of the panel, saying that "God made us that way. He gave us this impulse." With that, he pointed to Bill Clinton, Franklin D. Roosevelt and John F. Kennedy. "Do we say well, if they do that, we have to dispense with them?" Kay noted that Petraeus' position in the CIA meant he had to go.
Rather observed that men in power often grow addicted to risk-taking and that, combined with the feeling of invincibility, can lead to such situation. To that point, Kay remarked that we rarely hear of women in power embroiled in such scandals — and attributed that to her perception that while women are attracted to men in power, the vice versa isn't necessarily true. Women in positions of power tend to be seen as "successful but not likable," she said.
Watch the segment below, via NBC:

Have a tip we should know? tips@mediaite.com