Chris Matthews Panel Uses Rush Limbaugh's 'Uppity' Comments To Call GOP Base 'Xenophobic'
Chris Matthews Panel Uses Rush Limbaugh's 'Uppity' Comments To Call GOP Base 'Xenophobic'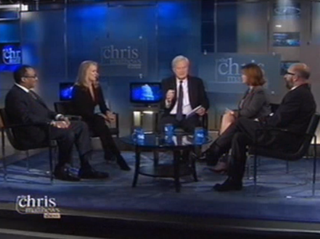 First Lady Michelle Obama's frigid welcome at a NASCAR game was one of the week's biggest highlights, but to some, it was the reception of the incident from the right that told the story. On today's Chris Matthews Show, the panel used the NASCAR incident as a prism through which to analyze the Republican race and, noting that the Republican base– the kind that is comfortable with calling the First Lady "uppity"– is "xenophobic and nativist," they wondered how such an extreme party could win a general election.
RELATED: First Lady Michelle Obama Booed At NASCAR Race
Host Chris Matthews played the clip of Rush Limbaugh reacting to the First Lady's booing by blaming her for her "uppity-ism," and noted that it was the sort of term that had unfortunate and very overt racial overtones (he also noted he had only heard "uppity" "used with the n-word"). Panelist Clarence Page agreed with the word's connotation. "Uppity is the perfect dog whistle word," he argued, and noted that the booing was "part of the larger culture wars," one side of which Limbaugh knew well how to plug into.
RELATED: Rush Limbaugh: First Lady Was Booed At NASCAR Event Due To Obama's 'Uppity-ism'
The debate then expanded to Republicans in general, where Andrew Sullivan wondered how Republicans expected to win elections by trying to please the far right. "How many minorities are they going to tell not to vote Republican until they realize this is going to be a problem for them?" he argued, adding that "the more the Republican Party adheres to the Limbaugh brand, the more they are doomed."
Not all Republicans perceived things this way, added Katty Kay, who noted that Jeb Bush had done well courting minorities. "Mitt Romney understands this too, but he's handcuffed right now," added Page, since "the Republican base is remarkably xenophobic and nativist."
The segment via NBC below:

Have a tip we should know? tips@mediaite.com