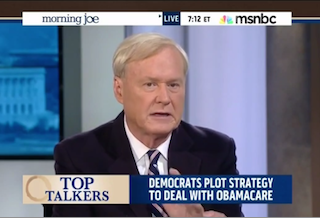 Chris Matthews had some bad news for Democrats on Morning Joe today: "They're going to lose the Senate." Based on the results of this week's special election in Florida, in which Republican David Jolly beat Democrat Alex Sink by running against the Affordable Care Act, Matthews said the left is in trouble.
Joe Scarborough set Matthews up by suggesting 2014 could look a lot more like 2010 than 2012, with a very different pool of voters who are not as friendly to President Barack Obama. Just like that midterm election year, Obamacare could be the deciding factor for many of them.
"The Democrats are in kind of a conciliatory, soft mood. They want to negotiate, they want to make deals across the aisle, they want to fix Obamacare," Matthews explained. "On the Republican side, it's much harder. They want to get rid of Obamacare plain and simple and they don't want to negotiate so much."
With "passion" on one side and the other side "not sure of themselves," Matthews predicted more Republicans will come out to the polls this November. If Matthews had any advice for Democrats it was to "get out there and put a very strong, bold picture on what the Republicans would like to do and say that's what they're going to do" when it comes to issues like entitlements and abortion rights.
Even so, he said "it's going to be very hard to hold the Senate — I think the Senate goes. I think we heard from the Ghost of Christmas Future this week. They're going to lose the Senate."
Watch video below, via MSNBC:
[photo via screengrab]
— —
>> Follow Matt Wilstein (@TheMattWilstein) on Twitter
Have a tip we should know? tips@mediaite.com