Chris Matthews Questions Why Rupert Murdoch Was Able To 'Fast-Track' His American Citizenship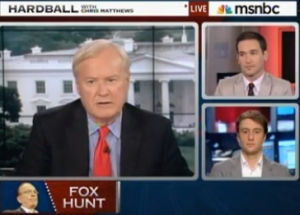 Chris Matthews seemed to enjoy discussing Rupert Murdoch's ongoing troubles with his scandal-plagued foreign newspapers. Gabe Sherman from New York Magazine and Judd Legum from the Center for American Progress joined Matthews for the discussion as they all speculated how Murdoch's foreign troubles might create some headaches for his media companies in this country.
Matthews discussed how calls for investigating Murdoch's company, News Corp., are now even coming from the unlikely source of Republican Congressman Peter King. Although Sherman said there is no evidence that the same illegal phone hacking that occurred in England took place here, Matthews certainly thought it was possible given that it's the same company. Sherman agreed, especially if it is determined that a member of the Murdoch family had knowledge of the ongoing illegal activity, then it would be likely to implicate Rupert somehow as well.
Matthews was intrigued by Murdoch's vast power, and started to become fascinated by Murdoch's ability to hire powerful people to help him get the things he wants. Matthews speculated that someone helped Rupert with the "fast-tracking of his American citizenship" and he asked "is [Rupert] a true American or is he an Australian?" And the fact that Murdoch has a "better stable than the RNC" of Republican bigshots, was proof to Matthews that Murdoch's history of relationships with powerful people has allowed him to often play outside the rules.
Given that the stars of Fox News have never missed an opportunity to go after MSNBC's former parent company, General Electric, whenever that organization was in trouble, maybe it shouldn't be too surprising that Matthews now takes the time to return the favor?
Watch the clip from MSNBC below:

Have a tip we should know? tips@mediaite.com