Chris Matthews: Romney Cannot Connect With Voters Because He Has 'No Evidence Of Having Suffered'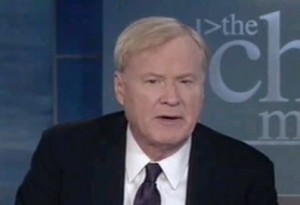 One argument for the GOP nomination Mitt Romney has over his rivals is that his time in the private sector gave him enough experience to effectively create jobs, and because unemployment figures are so dismal, the nation should put Romney in charge so he can fix it. But with the latest numbers showing unemployment is steadily dropping down to 8.3 percent, Chris Matthews wondered if Romney will be able to sustain that argument for much longer.
RELATED: Sen. Chuck Schumer: Romney Is 'Desperately' Trying To Be A Middle Class Candidate
Matthews asked Time editor Richard Stengel if Romney is a good politician considering the comments he made last week regarding poor people. Stengel didn't think it really mattered how good or conservative Romney was, because if he wins the GOP nomination, it's not as if a whole bloc of conservatives will suddenly flock to President Obama.
Matthews and Andrea Mitchell agreed that the problem with Romney's comments on the poor is that they may have been too true to his character. Mitchell argued that rather than being concerned about his political skills, voters are more worried about how conservative Romney will be as president compared to Obama. Matthews joked that at no point in the campaign has anyone gave the words of wisdom "Let Mitt be Mitt." The Washington Post's Nia-Malika Henderson felt Romney was just too out-of-touch to average voters, and he is less able to connect with voters than his rivals. When Matthews brought up how awkward Romney looked during Donald Trump's endorsement of his candidacy, everyone on the panel agreed that it was not a good visual by any strain of the imagination.
But what about Romney's business credentials? Would his claim that he would be able to fix the economy not play as well in the election because of the latest drop in the unemployment rate? Howard Fineman suggested Romney could still use this line of attack successfully unless there was consistent job growth above a certain level from now until the election. Matthews noted that past presidents who have been relatively wealthy have been able to connect with voters on some level, and he wondered if it had to do with a sense people have that Romney has not really gone through tough times.
RELATED: Rick Perry On Romney's 10K Bet: 'Out-Of-Touch' To Make A Comment Like That
But as Fineman reminded everyone, for all the problems people have with Romney, he is probably going to end up being the Republican nominee.
Watch the video below, courtesy of NBC:
Have a tip we should know? tips@mediaite.com
Josh Feldman - Senior Editor