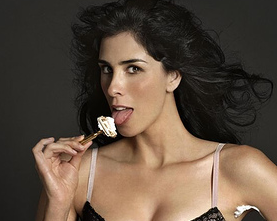 Perhaps you hadn't heard potty-mouthed comedian–and Fox News critic—Sarah Silverman might bring some badly needed humor to the 2012 campaign?
MSNBC's Chris Matthews sees Silverman as a Palin-beater, should the two go head to head in the Sunshine State. (Wait. Does anybody else see Reality Show Gold here?)

In reviewing some early (and, many would argue, meaningless) polls–especially automated polls–done in Florida, Matthews finds Mitt Romney strong, and Palin weak. How weak? Weak enough to get crushed by Jimmy Kimmel's on-and-off-again girlfriend, that's how:
Florida, Florida, Florida. My late colleague, Tim Russert, used to say that it's still the biggest swing state in presidential politics, a state President Obama carried back in 2008. So how does he look heading into 2012 down there? Well, pretty good. A new PPP automated poll finds President Obama leading the potential Republican field in Florida.Among the Republicans, Mitt Romney does best. He trails the president by just 2 points in Florida, 46-44. That's darn close. Mike Huckabee lags behind 49-44. That's 5 points. Then there's Newt, 47-42. And President Obama does his best against, who else, Sarah Palin. I think Palin`s not too good down there — 52-38. Anyway, Sarah Silverman can beat her down there.
Will Sarah (Silverman) run? Well, her Comedy Central show, The Sarah Silverman Program was cancelled earlier this year after three seasons, so she might be looking for new things to do, and she'd certainly be entertaining as all get-out in a debate. Also, she'd be great for us here at Mediaite. One area of concern: two Sarahs on the same ballot in Florida, a state that's easily confused and tends to crash elections.
That's it. Sold. Run, Sarah, Run!
Have a tip we should know? [email protected]