Chris Matthews Savages Obama For Sending Campaign Staffers On TV To Defend Administration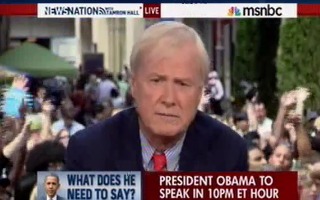 MSNBC host Chris Matthews appeared on MSNBC with anchor Tamron Hall where he was asked what President Barack Obama needs to accomplish tonight in his speech before the Democratic National Convention. Matthews took the opportunity to slam the Obama administration for sending White House staffers out to defend the administration.

Matthews told Hall that he thinks the president must be specific about the policy proscriptions he believes will up the sluggish economic recovery. He said he hopes that the president will detail the hard truths that the public needs to hear and abandon "flowery rhetoric."
Matthews praised Gov. Deval Patrick's speech on Tuesday night at the Democratic convention and expressed his dissatisfaction at the Obama administration's communication strategy. He said that he is disappointed in the administration's inability to send convincing surrogates out to the press to defend the president, and instead giving the task of defending the White House to administration staffers.
"The most important lesson of this week is, President Obama can't do this alone," said Matthews. "He needs confederates."
"I want to see Michelle, I want to see Rahm Emanuel, I want to see Chuck Schumer, I want to see Gov. Patrick – I want to see all these people out in the field, Bill Clinton leading the way, as confederates for this guy," Matthews continued. "They can't go back into putting their staff out on television. Axelrod and Plouffe? Give me a break."
"Nobody wants to hear from the staff," Matthews said. "They want to hear from grownup politicians who've been elected. Those are the people that can vouch for him. How can you vouch for your boss? He's paying your salary."
"I don't understand why they keep packing Meet the Press and those Sunday shows with staffers," Matthews said. "This president, who wants to look like a leader, show you've got followers."
"Wow," Hall said several times amid Matthews' impassioned admonishment of the Obama administration. Matthews concluded by noting that the administration's communication strategy has been a "deficiency" for some time.
Watch the segment below via MSNBC:
> >Follow Noah Rothman (@Noah_C_Rothman) on Twitter
Have a tip we should know? tips@mediaite.com