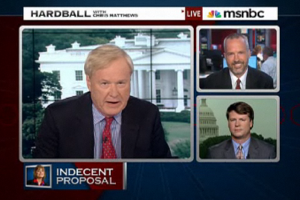 Nevada Republican Senate Candidate Sharron Angle shocked Fox News' Carl Cameron recently when she bluntly explained that she wanted journalists to ask her prepackaged questions. Despite Cameron's reaction, on tonight's Hardball Chris Matthews attacked the network (though excluded Cameron and a few others) for being a 24-hour "infomercial," and deriding the "culture" over at Fox News.
Alongside guests Ryan Grim of the Huffington Post and Media Matters' Eric Boehlert, Matthews attacked Angle for repeated comments that showed a similar line of thought– a "logical progression to the way this candidate views the role of the media," as he put it, which is to "get the stooge to set her up to raise money." Boehlert agreed, but took a sharper line of attack against Fox News, claiming that "they have candidates on, not to interview them or perform any sort of journalism, but to say 'here, raise money off your appearance, and we'll sort of give you softball questions.'"
Matthews was somewhat more lenient on the network, even if he did call Angle and her campaign a "travesty", saying, "I think even Fox, I'm sure Roger Ailes says 'What the hell? You don't put this in writing, damn it… you don't write down the deal the way she wants it to be, like a marriage contract.'"
Then the conversation veered to the 2012 elections, and the fact that three of the major possible Republican presidential candidates– Newt Gingrich, Sarah Palin, and Mike Huckabee— work for Fox News, and the fact that Palin scribbled answers on her hand during this week's Fox News Sunday, which may or may not have, according to the panel, indicated that she was aware of the questions beforehand. That said, the segment ended with some love for Cameron, Shepard Smith, Bill Hemmer, and Chris Wallace for being fair journalists.
Grim, meanwhile, took the most optimistic take on Angle's comments: "We should be applauding her for honesty… can you imagine how fun our political system would be if people were this honest all the time?"
Video below:

Have a tip we should know? tips@mediaite.com