Chris Matthews: Since Election Obama 'Has Been Elitist And Come With A Teleprompter'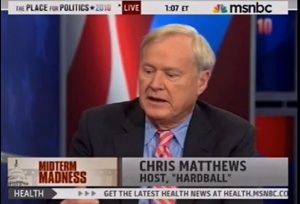 With nearly all polls pointing to a significant GOP victory during tomorrow's midterm elections, some political pundits are already starting to point fingers of blame, even if the target once was responsible for leg-thrilling oratory skills. Case in point, during an appearance with Andrea Mitchell on her eponymous MSNBC program, Chris Matthews did not demure in his blistering comparison between Candidate Obama and President Obama. Watch and see for yourself.
The thrust of Matthews' commentary is that Obama was terrific at connecting with the people while running for office, but as president, he has been just the opposite. Rough transcript of the heart of his comments precede the video segment below:
Chris Matthews: When he was a campaigner, he said what a great country it is, what an exceptional country it is. A guy like me made it. He was patriotic and inclusive. He was interactive. Ever since he's been president, he's elitist and come with a teleprompter. He hasn't listened. He's talked at us rather thn with us.

Andrea Mitchell: That's what he's projected?

Matthews: No, he brings the teleprompter with him.

Mitchell: You don't think he's interacted even with the town hall meetings?

Matthews: No. and I think he hasn't explained himself. Lincoln had to explain the civil war. Roosevelt had to explain everything. You have to take people along with you. I think he's guilty of the elitist charge. If you are going to spend $1.6 trillion deficit in one year, you have to explain to the American people why you did it. he never explained economics the way you were taught it.
(H/T Breitbart.tv)
Have a tip we should know? tips@mediaite.com