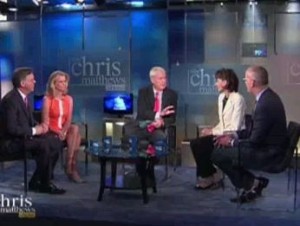 Within the next four years, there will likely be at least one Supreme Court vacancy that the president will have to fill. But will that president be Barack Obama or Mitt Romney? Chris Matthews focused on the latter outcome on his show today, speculating that a Romney administration could end up creating "the most conservative in all of American history." The panel agreed that Romney would most likely go with strong conservative nominees, while Obama would be more likely to go with a safer, more centrist choice.
RELATED: NY Times Warns SCOTUS Justice Ginsburg: Retire Soon Or Risk Being Replaced With A Conservative
Matthews pointed out that four of the Supreme Court justices are over 70 years old, two of whom are reliably liberal voices on the bench. He said the average retirement age for justices over the years is 78, and Ruth Bader Ginsburg is turning 80 next year. Matthews ran a clip of Romney warning an audience of the dangers of a Supreme Court molded by Obama.
NBC News justice correspondent Pete Williams said Romney would certainly want the court to be more conservative on social issues, with a possible repeal of Roe v. Wade waiting in the wings. However, he noted that the future of the Supreme Court does not necessarily factor that much into a presidential campaign.
Joan Biskupic said if she were a debate moderator between Obama and Romney, she would want to ask them what they would be looking for in a Supreme Court nominee within the next four years. The question would most likely be more geared for Romney's answer, since with the appointment of Sonia Sotomayor and Elena Kagan, people have a general understanding of what Obama considers to be the tenets of an ideal justice.
Matthews suspected a focus on the Supreme Court, particularly when it comes to social issues, would not be a welcome sight for the Obama administration come convention time, especially considering the DNC is gathering in North Carolina, a state where gay marriage has been banned outright. John Heilemann disagreed, saying the Obama administration would want to talk about social issues because "it fires up their base."
Hypothetically speaking, Matthews wondered, if the number of liberals on the Supreme Court doubled, what exactly would people want them to get done? The BBC's Katty Kay said liberals would want them to reinforce strong abortion rights, affirmative action, and even gay marriage.
RELATED: O'Reilly Responds To 'Outrageous' Supreme Court Ruling: 'Now The Government Calls The Shots'
Matthews asked another hypothetical: which candidate would be more likely to pick a centrist as a Supreme Court nominee? Williams said it's likelier that a Democrat, in this case Obama, would go with a safe centrist pick as opposed to someone who's more ideological. Kay pointed to the difference in political outlook between Sotomayor and Kagan as an example of this.
Watch the video below, courtesy of NBC:
Have a tip we should know? tips@mediaite.com
Josh Feldman - Senior Editor