Chris Matthews: 'The Hatred [GOP Candidates] Have For Barack Obama Is… So Far Off The Charts'
Matthews: 'The Hatred [GOP Candidates] Have For Obama Is... So Far Off The Charts'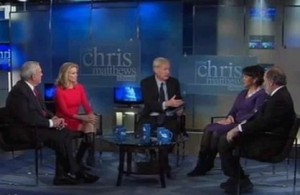 On his show today, Chris Matthews looked at the strong rhetoric being used by the Republican presidential candidates against President Obama and asked if their strong hatred of the incumbent would have any effect on their party's chances in the fall. Dan Rather predicted that the trend wouldn't last long, and in order to have a good chance of winning the general election, the Republicans are going to have to tone down the rhetoric and move to the center in the general election.
RELATED: Chris Matthews: Only Way Romney Can Beat Gingrich Is To 'Catch Up To Him With His Hatred Of Obama'
Katty Kay thought these debate moments of the GOP candidates thoroughly bashing Obama would come back in the general election and the Republican nominee would be faced with them in a presidential debate in the fall. But she suspected that the candidates are doing it all just for show.
"I'm not sure whether these guys actually hate Obama. I just think that the more extreme the primary gets, the more difficult it gets, the more unreal the debates become, because they're having to shift so far right in order to scrabble over primary voters."
New York Times White House correspondent Helene Cooper detected a small pivot in the party in an appeal to the center, citing Virginia's recent compromise on a controversial transvaginal ultrasound, and a desire by the Republicans to not lose a whole bloc of women votes. Time writer Joe Klein said this is quite possibly the most negative race he has ever seen in decades of campaign coverage.
Matthews asked how much of the negative feelings held towards President Obama and his family will impact the rest of the presidential contest. Cooper predicted the Republicans will have a hard time walking back a lot of the personally negative things they have said about Obama in the past few months when confronted with it down the road. Matthews took out the "Matthews Meter," showing that a slim majority of his most frequent guests believe the eventual Republican candidate will pivot towards the center during the general election.
RELATED: Trump On The GOP Race: 'The Level Of Hatred… Is Unbelievable'
Klein did not agree with this assessment, finding it hard to believe someone like Mitt Romney could possibly pivot on his immigration stance. He said that the Republicans "are living in an alternate universe where Rush Limbaugh is God." Matthews asked Cooper whether the Obama administration is doing cartwheels yet or not, but Cooper said the White House is urging caution moving forward.
Watch the video below, courtesy of NBC:
Have a tip we should know? tips@mediaite.com
Josh Feldman - Senior Editor