Matthews To Obama: 'It's Not Funny' To Joke About 'Shovel-Ready' Jobs Not Being Ready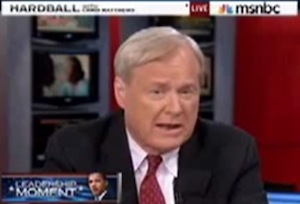 Chris Matthews gathered two prominent Democrats in Robert Reich and Bill Richardson and continued to wonder what is President Obama waiting for to propose a jobs program and address the unemployment crisis in America? Matthews suggested he's been advocating Obama get behind such a plan immediately, but admitted "I don't know what he watches or listens to." And hopefully Obama wasn't watching today's Hardball, otherwise he might be none too pleased with Matthews' tongue-lashing about the President making an allegedly inappropriate joke.
First though, Reich claimed Democrats feel "abandoned" as Obama has been swept up in talk over a "debt crisis," when Reich believes the real crisis is jobs and it needs Obama's urgent attention. Richardson agreed the focus should shift back to jobs, but believed Obama shouldn't call Congress back to Washington until he has a plan of action. And Richardson also pushed back against critics of Obama's leadership, arguing he is a "very persuasive guy" who is not at all detached.
However, Matthews again expressed his newfound frustration with Obama, suggesting "it's not funny" for Obama to joke about "shovel-ready" jobs not actually being ready, when everybody sees there is work to be done. Such a moment of Obama joking about a serious mistake of his, reminded Matthews of President George W. Bush making light of the fact that there were no WMD's discovered in Iraq. Even though Matthews revealed he's generally supportive of most of Obama's actions, it seems that as the economy continues to falter, Matthews is beginning to start a new, fast-growing list of things he actually doesn't like about the President.
Watch the clip from MSNBC below:

Have a tip we should know? tips@mediaite.com