Chris Matthews To Panel: Republicans Are 'Treating Women Like They're Not Really Voters'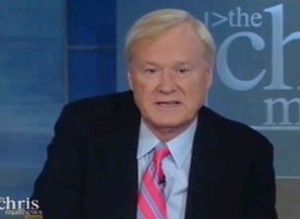 Given all the controversies surrounding women's health care in the past month or so, Chris Matthews said on his show today that Republicans are "ignor[ing] the simple fact that women vote, and are the majority voters." Matthews dragged viewers down into a time warp of sorts, playing footage of speeches from Hillary Clinton and Sarah Palin four years ago, and then marveling at how contraception became such a big issue in this election cycle.
RELATED: Michael Steele Sums Up Obama's Contraception Policy As 'I Got Your Back, Here, Have A Pill'
Matthews suggested that given the way Republicans have been talking about contraception, it's as if the party is "treating women like they're not really voters." Nia-Malika Henderson brought up the large gender disparity in the 2008 presidential election, and said Obama was definitely helped get into office from the support of women. She did note that women shifted again in 2010 to support Republican candidates for Congress, but the focus on contraception, she argued, is bringing the advantage back to the Democrats. She predicted the candidates' wives will be seen more on the campaign trail in the future.
AP reporter Kasie Hunt said the focus on social issues is frustrating Mitt Romney, because his strength is more focused on the economy and job creation, and pointed out how Romney barely said anything about the Rush Limbaugh controversy. Howard Fineman said Romney missed an opportunity to have a "Sister Soulja moment" with Limbaugh, and it would have not threatened him in the slightest. John Heilemann added that women are just one group Romney is currently having trouble with, so his appeal will need to go beyond that.
Watch the video below, courtesy of NBC:
Have a tip we should know? tips@mediaite.com
Josh Feldman - Senior Editor