Chris Matthews: Why Shouldn't Sarah Palin Run? Many 'Not Brilliant Guys' Have Before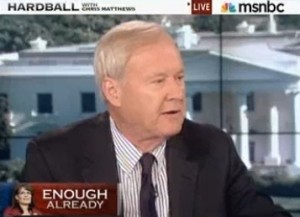 Chris Matthews was curious about what exactly Sarah Palin is up to traveling around Iowa, yet unlike some of his MSNBC colleagues who weren't thrilled about having to give Palin attention, Matthews seemed fascinated by what Palin's role could be, or even should be in the future. Matthews' guests David Corn and Susan Mulligan however seemed less enthused about Palin's possibilities.
Matthews was still unsure why when Palin can so easily grab the spotlight, she doesn't just pull the trigger and run for President:
"All she has to do is do some briefing books, get some people around her who know their stuff. Everybody does it, it's not mentally demanding . . . run for President! What's so hard about it? People that weren't brilliant – if Nelson Rockefeller did it – a lot of guys who weren't the most brilliant people in the world have done it."
Yet Corn suspected Palin doesn't want to run, risk being defeated, and then lose the title of "Queen Sarah Palin." Mulligan was similarly skeptical, thinking everything with Palin is just about promoting herself and making money, and that she has no real concern for the Republican agenda. Matthews didn't lose hope though for Palin yet, imagining she could be like the Republican's version of Jesse Jackson, motivating the base for the eventual nominee. Ultimately might it just be too hard for some to imagine a political future without Palin involved?
Watch the clip from MSNBC below:

Have a tip we should know? tips@mediaite.com