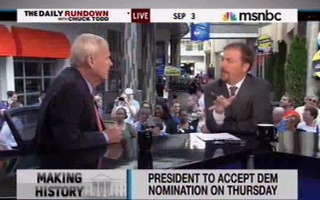 MSNBC host Chris Matthews appeared on The Daily Rundown with Chuck Todd on Monday where he previewed portions of a documentary on President Barack Obama set to air on Monday night. Matthews praised Vice President Joe Biden for his campaign skills and lamented that Obama's reelection team has reined in Biden who Matthews says is more effective when he is unleashed.

RELATED: Rudy Giuliani's Analysis Of Joe Biden: 'This Guy Just Isn't Bright'
"He's good," said Matthews of his documentary in which he interviewed Biden.
"It's the most elusive interview now to get," said Todd. "Are they keeping him too bottled up?"
"I think so," said Matthews. "They seem to want him to stay on topic. They seem to not want him to stray at all into his the best of Joe." Matthews said that Biden's rhetorical skills always come "with a little bit of trouble."
"He's so honest, he's so unscripted. But, you know, you get a real person there," said Matthews. "What's the problem with [Mitt] Romney? You wonder if there's a man behind the curtain."
"Romney and I would say, to some extent, Paul Ryan don't have a lot of personality," said Matthews. He said that he agreed with a piece in TIME Magazine this week which claimed that Biden was a key component to the Obama team's reelection efforts because "he's the mensch part of it."
"They don't use him enough," asked Todd.
"Remember I said about four years ago that he put the apostrophe in Obama because he made him sort of ethnic and Irish and fun," said Matthews. He said that Bill Clinton was going to have to play much of the role that Biden could have played for Obama's reelection effort.
Watch the segment below via MSNBC:
> >Follow Noah Rothman (@Noah_C_Rothman) on Twitter
Have a tip we should know? [email protected]