Chris Matthews On Those Sponsoring Gov. Perry's Prayer Rally: What Do You Make Of 'That Wingnut'?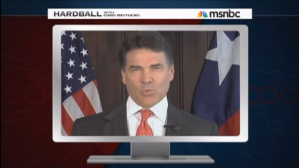 Let's play Hardball, people. This evening, MSNBC's Chris Matthews organized a debate on Texas governor Rick Perry's call to the American people to "pray and fast like Jesus did" at his prayer event coming up in Texas tomorrow, August 6th.
Matthews' guests included Tony Perkins, of the Family Research Council, and Barry Lynn of Americans United for Separation of Church and State.
Perkins noted that there will be a religious diversity present among the different mostly Evangelical Christian participants planning to assemble tomorrow not to give speeches or "even preach," but to pray for the nation. Lynn, however, felt that Perry should not be promotion a "Christian-only prayer rally," noting that the "diversity" espoused by Perkins does not include Muslims or Jewish folks… unless they want to attend the rally to "learn about Jesus." Lynn feels the event is an example of what he refers to as "Government Evangelism." Perkins countered by saying that certain Jews have spoken out in favor of the event, and that it is open to whomever wishes to attend. He also made it clear that "not a single tax payer dollar" was funding Perry's prayer rally.
Talk also turned toward Bryan Fischer and John Hagee. Fischer is the director of Issues Analysis for the American Family Association (AFA), host of Focal Point on American Family Radio, and blogger for the AFA's Rightly Concerned who is sponsoring the prayer rally. He has routinely made several controversial statements about, for instance, the gay community and Muslims. Hagee is the founder and senior pastor of San Antonio's nondenominational Cornerstone Church and the CEO of the non-profit Global Evangelism Television (GETV). Hagee has made quite a few eye-catching comments of his own, including calling the Catholic Church "the great whore" and referring to Hurricane Katrina as "God's punishment" of New Orleans.
Are these, Matthews wondered, really the type of people you'd want representing any event, much less one devoted to prayer? To further drive home his point, he offered up a "montage of voices" including various polarizing, and even hateful, statements made by those representing and/or sponsoring tomorrow's event.
Perkins responded by saying that "not everyone" believes with the beliefs espoused by those individuals.
Lynn then shared that his group is hosting an alternative "Family, Faith and Freedom" event tonight at a predominantly black Baptist Church.
Have a look at the debate, via MSNBC:
Have a tip we should know? tips@mediaite.com