Chris Matthews Wonders If Chicago Mayor's Retirement Will Spur White House Shakeup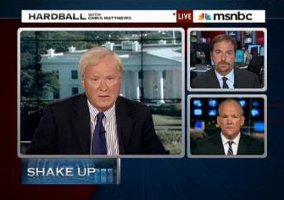 President Barack Obama's poll numbers aren't looking too good these days, and no matter how much of a thrill he gets up his leg when the man speaks, Chris Matthews knows it. And that's why, after news broke today that Chicago mayor Richard Daley will retire at the end of his current term – opening a position White House chief of staff Rahm Emanuel has long coveted – Matthews couldn't help but wonder if it would lead to just the kind of shakeup he feels the administration needs.
Matthews brought on NBC News political director Chuck Todd and New York Magazine's John Heilemann to discuss. Todd noted that Emanuel said nothing today to indicate he won't run, and that he needs to make a decision soon, lest he leave "filling the void" in Chicago to other prospective candidates. He also stressed that "there was going to be a reorganization of some form" among Obama staffers anyway, though doing anything immediately risks looking like they're "throwing in the towel."
Heilemann was more forceful, saying "a shakeup is necessary" and that "the Rahm thing is gonna be the trigger for that." He said the most important thing for Obama in restructuring his staff is expanding his horizons:
"I think that as important as how big the name is, is the idea of getting someone from outside the inner circle…[Obama] trusts very few people, he takes advice from very few people…he needs to go to someone who will tell him unpleasant truths…say, 'Listen buddy, you gotta get with the program here, I'm here to tell you things you don't want to hear.'"
Indeed, even if an Emanuel run for mayor of Chicago would force Obama to revamp his staff not entirely on his terms, to hear Heilemann (and, apparently, the majority of Americans) tell it, working outside of his terms might be for the best. Video of the segment below.
Have a tip we should know? tips@mediaite.com