Chris Wallace Asks Romney If His Donations To Mormon Church Will Be A Problem In Presidential Race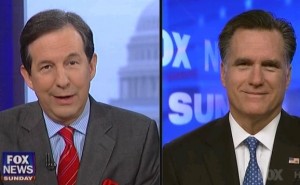 After being dogged by rival candidates and the media to release his tax returns, Mitt Romney finally relented today and told Chris Wallace on Fox News Sunday he would release his 2010 tax returns, alongside an estimate of his 2011 tax returns, on Tuesday. Both Rick Perry and Newt Gingrich called on Romney to release his tax records last week, and Romney's initially said he would do so in April. But after all the intense media coverage, Romney decided to just get it out of the way this week.
RELATED: Republican Debate Audience Boos Mitt Romney Over Releasing Tax Returns
Wallace asked Romney if he would consider releasing tax returns going back a few years ago. Romney countered that no other Republican candidate has released that many records, adding that he hoped the release of his 2010 returns would finally give voters a clear idea of where he gets his income from. As for any possible political scandals that could potentially arise from the release of his returns, Romney insisted getting the records out now would help him because having his tax returns vetted now would mean the Democrats would have a harder time making them a campaign issue in the fall.
Then Wallace broached one subject that has not been brought up very much during Romney's campaign this election season: his ties to the Mormon church.
"You have been very open about the fact that like a lot of other devout Mormons, you tithe to your church. Given the results that we saw in South Carolina, do you think it might be any kind of a political problem, the fact that, being as wealthy are you are, you've given millions of dollars to the Church of Latter-Day Saints?"
RELATED: Chris Matthews And Panel: How Much Of Romney's Opposition Is Due To His Mormon Faith?
Romney answered "Gee, I hope not" before explaining that as a faithful member of the Mormon church, he gladly gives ten percent of his income to the church every year, framing himself as someone who "made a promise to God, and kept that promise."
Watch the video below, courtesy of Fox News:
Have a tip we should know? [email protected]
Josh Feldman - Senior Editor