Wallace Avoids The Wrath Of Ron: 'I Didn't Mean In Any Way To Denigrate Ron Paul'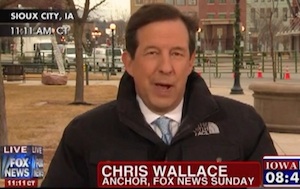 In an interview with Fox News host Jon Scott, Chris Wallace walked back his earlier remarks to Neil Cavuto that if Ron Paul wins the Iowa caucuses, it will discredit the contest. "Now, Ron Paul's fans are legion and they are very vocal. I'm sure your e-mail box has been overflowing with reaction to that comment!" Scott exclaimed.
"I don't mean in any way to denigrate Ron Paul," Wallace clarified.
RELATED: Fox's Chris Wallace: If Ron Paul Wins In Iowa, It Will Discredit The Iowa Caucuses
"I've interviewed him a number of times," Wallace continued. "I think he's a very interesting guy, I fully understand why his thousands and thousands — millions of supporters across the country, but thousands here in Iowa are so supportive of him."
Despite playing down his earlier criticism, Wallace maintained Paul would throw a monkey wrench into the race if he was to win in Iowa.
"I think it is fair to say he is a long shot for the Republican nomination. and to the degree that people look at these states and say are they picking a president, if they were to pick Paul, I think a lot of the — you know, and maybe we're not so smart, but a lot of the smart guys in the media and in the Republican Party would say, well, that's kind of an aberration. Now, it may be that Ron Paul proves us wrong, and I'd be happy if he did, because it would be a very exciting race."
Watch Wallace downplay his earlier comments about Ron Paul below via Fox News:

Have a tip we should know? tips@mediaite.com