Chris Wallace Corners Two Dems Over Whether Drones Could've Aided Libyan Consulate, Gets No Answer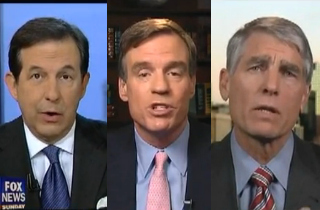 On this morning's edition of Fox News Sunday, host Chris Wallace confronted two Democratic Senators who serve on the Select Intelligence Committee over whether the drones that were reportedly available to aid the besieged U.S. consulate in Benghazi were in fact armed and could have provided valuable assistance. Both senators repeatedly dodged the question, avoiding a direct answer on the situation.
When asked whether the available drones were armed, Sen. Mark Udall (D-CO) responded: "We are going to find that out. I, as you mentioned, sit on the the Intelligence Committee… We're going to get to the bottom of this, find out what happened. That information — if appropriate — will be revealed."
"Do you know whether they were armed?" pressed Wallace, but the senator offered no comment.
Wallace then tried again: "But you'd certainly agree if they were armed they could have without — as Leon Panetta said, sending more troops into harm's way — could have been used to try to break up the attack?"
But Udall replied: "The drone assets that we have are remarkable and they saved the lives of many Americans. I look forward to discussing this with you further when I have the information and am able to share it with you."
Later on in the show, Wallace put a similar question to Sen. Mark Warner (D-VA): "I can understand how it would be politically embarrassing for the administration if it turns out the drones were armed and weapons not fired when the U.S. americans were under attack for 7 hours, but I can't understand how it would give up valuable intelligence. Can you tell me directly: were the drones armed or not that were flying over Benghazi?"
Warner offered no comment: "This member of the Senate Intelligence Committee is not going to make any comments on drones on the record, off-the-record or anywhere else."
Watch the two clips combined into one below, via Fox News:
— —
>>
Follow Andrew Kirell (@AndrewKirell) on Twitter
Have a tip we should know? tips@mediaite.com