Chris Wallace Defends Edit Of Jon Stewart Interview: His Fault If He Looked Bad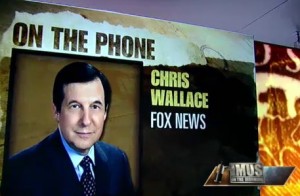 Now that it seems every political commentator and even presidential candidates have shared their opinion on the "epic" showdown between Chris Wallace and Jon Stewart, now it's time for what seems likely to be the final comment on it. Responding to Stewart's own post-debate review, Wallace thought the conversation was very good, even if Stewart remains "in denial" about his aspirations to be more than just a comedian.
Wallace spoke with Don Imus this morning and said about the interview, "if you were a liberal, you thought that [Stewart] just wiped the floor with me. And if you were a conservative, you thought I just wiped the floor with him." Even though Wallace thought both him and Stewart each scored some points, Wallace reiterated "I think he lives somewhat in denial about the bias of his program and of, more importantly, of the mainstream media." The one thing that surprised Wallace about Stewart was "how testy he got" talking about the "misinformed" viewers of Fox News. Imus was humorously surprised to learn they aren't actually misinformed.
Imus continued to believe Stewart was brilliant, but didn't enjoy hearing him complain about his job being "harder" and he responded, "trying to be funny about the news is not hard, shut up about that." Imus also wondered what Wallace's response was to Stewart claiming the edited interview made him look bad? Wallace didn't miss a beat and said "if he looked bad it was his fault." Since "Jon was filibustering," Wallace argued he had to edit the interview, just like Stewart does on his show, but they didn't hide anything and put the full version online. And with that, is it possible that the media dissection of the interview dissecting the media is officially over?
Watch the clip from Fox Business below:

Have a tip we should know? tips@mediaite.com