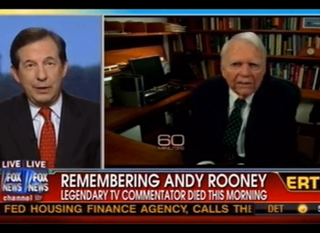 Fox News Sunday Host Chris Wallace made a special appearance on Fox & Friends this morning to talk about the life of Andy Rooney, the longtime 60 Minutes journalist and colleague of his father Mike Wallace who passed away this morning at 92. Agreeing that Rooney was "absolutely" a curmudgeon, Wallace also testified to the "real sweetness" of Rooney and his genuineness on and off camera.
RELATED: Andy Rooney Dies At Age 92
"Was he a curmudgeon? Absolutely!" Wallace told the Fox & Friends crew, but adding that Rooney had a "real sweetness"– "I can't tell you how many times he called my father, my family, and was just calling when a lot of other people wouldn't or didn't, just to offer words of support during various difficulties." He also noted that Rooney's sense of humor was not isolated to television: "he had a great sense of humor, great to have around," and "wasn't blow-dried by any means," the way many people on television are.
"He lived so long, and such a good life," Wallace added, noting that his place in American culture, giving "a closing hominy on the weekend… about some idiocy in America," made the loss feel "like a death in the family, because of his place in Sunday evenings." "It spoke to a home truth about the values that we should embrace in this country," Wallace concluded.
RELATED: Andy Rooney's Final Essay: 'I Wish I Could Do This Forever'
Wallace's statements via Fox News below:

Have a tip we should know? tips@mediaite.com