Chris Wallace: Fox News Sunday Didn't Cover News Corp. Scandal But Fox 'Not Shying Away'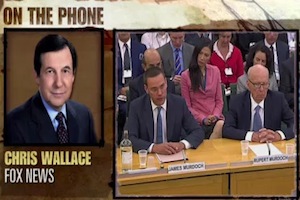 Chris Wallace spoke with Don Imus this morning and shared his thoughts on Michele Bachmann's headaches and the News Corp. phone hacking scandal. While Imus found some laughs in each story, Wallace said Bachmann's migraines should not disqualify her from running for President and insisted Fox News is giving plenty of attention to the controversy with its parent company.
Wallace first defended Bachmann and her extraordinarily vigorous campaign, as Imus launched this humorous assault:
"Michele Bachmann addressing that bus wreck going on in her head every morning, that thirty car pile-up. These migraines. She's got a bunch of ideas, like Bob Dylan, she's got a bunch of ideas in her head that are driving her insane, doesn't she?"
Yet Imus got slightly more serious wondering if anyone in News Corp. told Wallace not to cover the hacking controversy on his show. Wallace denied ever getting such a directive, but did admit he didn't think his show was the best place to talk about the story:
"We didn't talk about it on Fox News Sunday last week, it was – no reason other than, I'm not sure there's a lot to discuss on a Sunday morning talk show. . . . Generally there needs to be two sides to the argument for it to be effective, but we're not shying away from it and Special Report has covered it in depth."
Imus accepted Wallace's argument here, yet when Wallace also praised the performance of Rupert Murdoch and cautioned "I'm not saying that to be a toady," Imus couldn't help but chuckle.
Watch the clip from Fox Business below:

Have a tip we should know? tips@mediaite.com